You are here:
Mrs. Elizabeth Cisco
Caption: Mrs. Elizabeth Cisco lived in Jamaica, Queens, with her children and, until he passed away in 1897, her husband Samuel Cisco. She sat for this formal studio portrait at some point, although we do not know exactly what year, or whether it was before or after she and her husband began to challenge school segregation in 1896, or before or after she sued the Queens school board in 1899.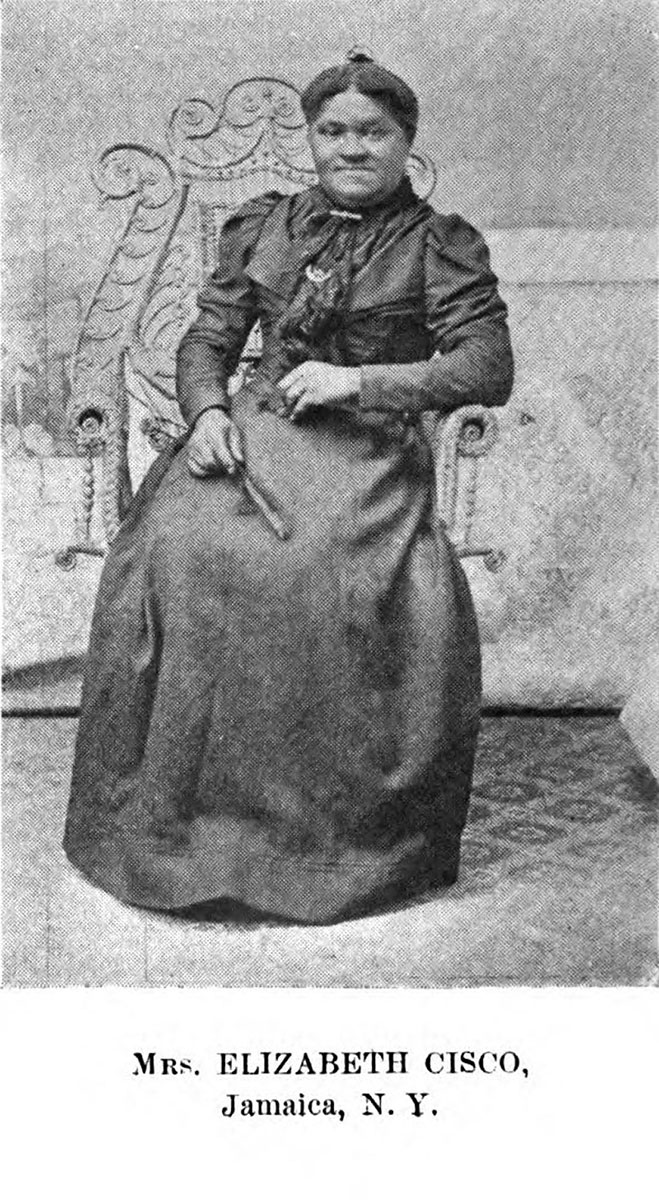 Categories: Queens, parent activism, k-12 education,
Tags: segregation, court cases, Black people, school facilities, photography, imagery, & visual representation, women's activism, legislation,
Item Details

Date: undated

Source: William Henry Johnson, The Autobiography of Dr. William Henry Johnson (Albany, NY: The Argus Company, 1900).

Copyright: Public domain

How to cite: "Mrs. Elizabeth Cisco," in New York City Civil Rights History Project, Accessed: [Month Day, Year], https://nyccivilrightshistory.org/gallery/elizabeth-cisco.
Questions to Consider

What message do you think Mrs. Cisco wanted to send through this picture? What choices do you think she made that helped send that message?
Do you use photography to represent yourself? What kinds of decisions do you make about how you appear in photographs, and why?
How do you feel seeing a portrait of a Black woman who helped make segregation illegal in New York schools?
Historian Evelyn Brooks Higginbotham writes about the "politics of respectability." She uses that term to argue that Black women of Cisco's generation were contesting white supremacy while also insisting that Black people conformed "to the dominant society's norms of manners and morals." Do you think that this portrait of Mrs. Cisco reflects "the politics of respectability"? Why might activist women like Mrs. Cisco might have chosen to present themselves as "respectable"?
Another Black woman activist in New York at the time - Elizabeth Jennings - was also photographed. What similarities or differences do you see between her portrait and that of Mrs. Cisco?
References
How to Print this Page

Press Ctrl + P or Cmd + P to open the print dialogue window.
Under settings, choose "display headers and footers" if you want to print page numbers and the web address.
Embedded PDF files will not print as part of the page. For best printing results, download the PDF and print from Adobe Reader or Preview.
You are here: